Mid-week is a weird time for a show, but we arrived in Menahga, MN and the beginning of band vacation weekend.  We actually had two festivals to perform in the area, and this Minnesota cover band was going to make the most of the beautiful weather and festival atmosphere. Mid Summer Music Fest was in it's 3rd year of existence.  With a newer festival, there's some anxiety over what we'll experience, as there's still a lot to be perfected at that stage.  We arrived and… "Hey I just drove past a trailer with Sugar Buzz's name on it"
What? Yes. We expected to be setting up, changing in our cars and lo and behold: a beautiful trailer to keep us cool and comfortable.  That was just the beginning.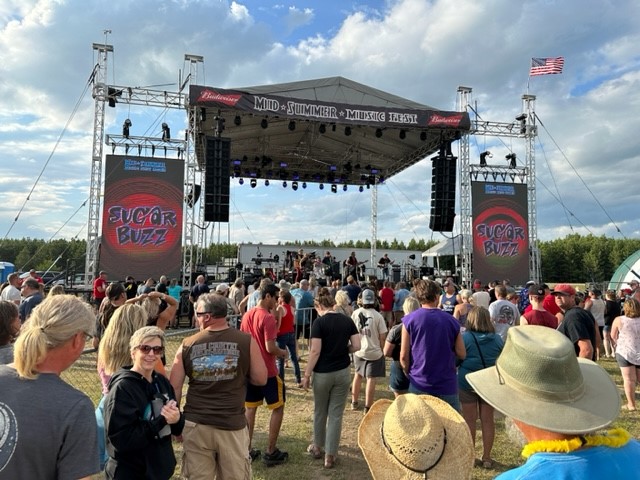 We set up on the main stage – the biggest stage we've ever played – complete with a catwalk, massive speakers and 3 band's worth of drum kits.  Beth started the entire festival with a solemn National Anthem and the announcement "Welcome to Mid Summer!" And with that, we're off to throw down the best hour we can deliver.  From The Bee Gees to Jane's Addiction, we kicked out, growled, and prowled the stage, showing our best for the growing crowd. Many were already sporting the red Sugar Buzz shirts, and we felt at home.  Our last song on the mainstage 24K had people bouncing… and then we saw the rain coming.  Last note!  "Thank you!  See you in the tent later"!
We felt a huge sense of accomplishment.  Then we ran for our lives.  A huge deluge of rain crashed upon the stage.  We and 3 other band's staff were running amok in an attempt to save our equipment. One small tent on the side of the stage held all the equipment. People were running in and out, carrying whatever they could.  Was it theirs? Ours? We couldn't tell.  We were soaked, confused and concerned. Fortunately the rain ended and we began the task of sorting through all the equipment to gather what was ours so we could set up for our late show in the tent.  Our drummer brought his kit completely still intact in the back of his pickup with his son holding onto everything.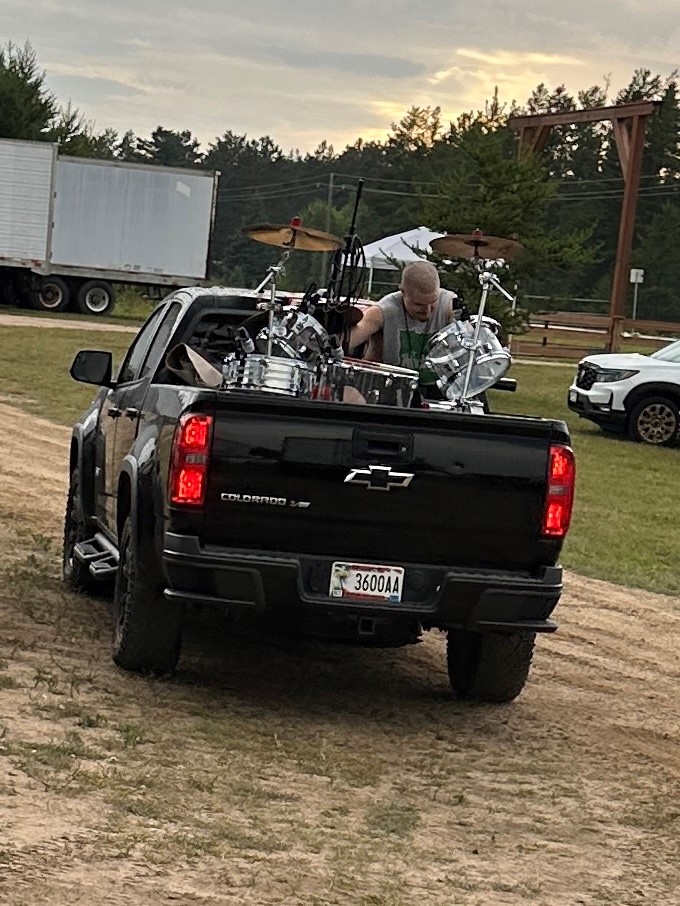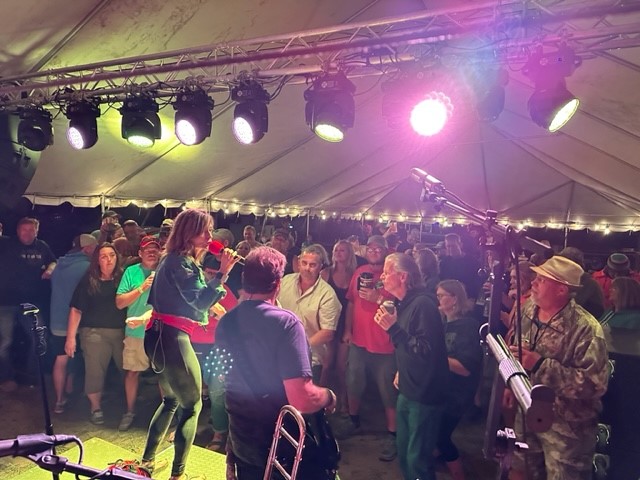 Whew!  We finally got through all the mess and were set up in the tent. Rain would not be a factor anymore this weekend. The party people came out to see us after the main act, and we were ready! We were relaxed (and now dry) and the crowd delivered the energy… Metallica, Bruno Mars… and then 20 minutes from end time… there was suddenly no sound. Somehow, the moisture got to the sound equipment in the tent.  Lars, the hired sound technician tried in vain to get it all working again.  No avail.  Ok – we improvise.  Dale yells "shout" and we begin the song SHOUT with no mics.  Just drums and a trombone.  The crowd sings along and loves it.  We get a few more minutes of music and it's then time to call it.  A few of us partake in the Jello shots that Anita Jello delivered and PART one of festival weekend is complete.  What an incredible night!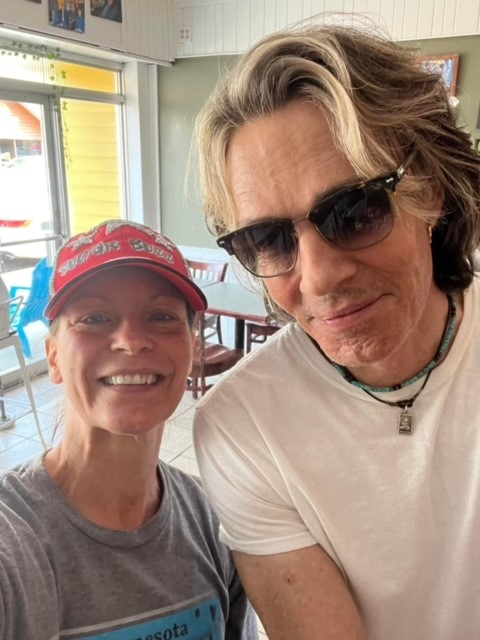 We wake up in Park Rapids, Minnesota, and after a LOT of coffee and lobby conversations, we make our way to Walker for Moondance.  This is our 12th year there, and we feel like we know the drill, the people, and the atmosphere.  A few of us even spend time walking the campgrounds to promote the show, meet new people, and say hello to old friends.  They are wonderful. They take pictures with us, we sign Sugar Buzz koozies and t-shirts, and they give us food and drinks.  What an uplifting and generous group of campers!  We're so excited. After a weekend of watching shows, pontooning and Beth getting to meet Rick Springfield in a local coffee shop (her dream come true), we are ready to take the stage for another 2 sets.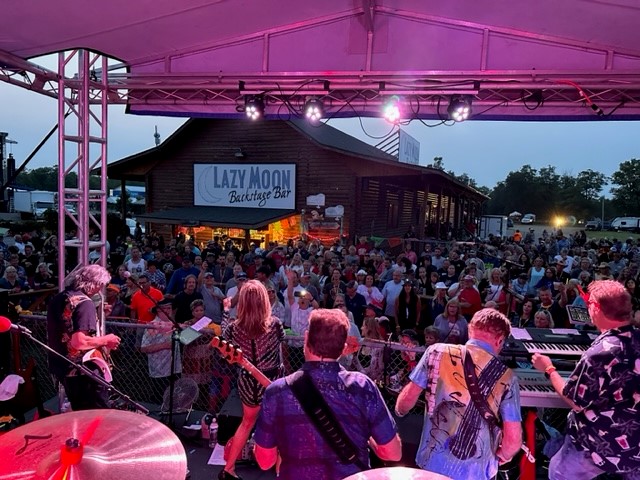 We start with Steelheart's "I'll Never Let you go" – a gutsy vocal choice, and it's like a siren call to everyone to pack the place.  The outdoor stage area is fenced in, but there are people far beyond the fences, all alongside watching and dancing.  We are home. The speakers pulsate with energy and the weather could not be more perfect.
Our second set is cut short for announcements on the main stage (the announcement stating that because of the turnout, yes, there WILL be another Moondance next year!). We are exhausted, exhilarated, and buoyant.  Beth runs to the main stage to catch her idol Rick Springfield and manages to get a spot in the front row.  She's still wearing her performance gear and custom Sugar Buzz hat she wore when she encountered him, in hopes he'll see her.
RICK SPRINGFIELD story ahead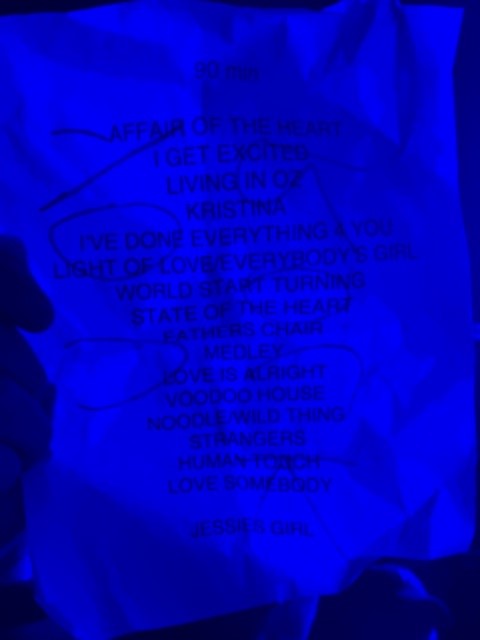 Several minutes before the show, one person associated with his act walked out on the main stage, holding an 8 1/2 x 11 piece of paper. He was on Beth's side of the stage, looking in her general direction. Hand written on one side with sharpie, it said "you rock. " The other side was a setlist for that evening's show. He stayed only on that side of the stage.  Beth looked up briefly, but really didn't give the sign much consideration.   The show soon began, and a friend of hers came over and brought her to a guy in the audience who now had the sign. (And he wouldn't give it up by the way). The guy on stage must've handed it to someone in the crowd. Her friend said "this was for you." The audience member who was holding it showed it to Beth and she took a picture of the Setlist on the one side, not understanding the entire context.
After the fantastic show closed out, Beth started thinking about the sign again – wait a minute… Maybe Rick's people heard parts of our show and that sign was meant for her and the band specifically?
We are not sure that we'll ever know the answer to that, but we would like to think that is the case!