On January 27th, we took the stage at Bogart's Entertainment Center in Apple Valley, Minnesota. The excitement was palpable before the show even started, with a packed house and fans eagerly waiting to dance the night away. We spy a full house and talk to several of our Sugar Buzz faithful and chat with people simply "excited" to see us. That's the push we need.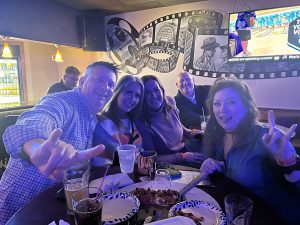 Bogart's has a roomy 3-level stage, so we already feel like rock stars… then the music starts.  As soon as we started playing, we could tell that the crowd was ready to get down and have a good time. There were several birthday parties in attendance – some knew us, some were just coming to see "whatever band is playing" at their favorite venue.  It's our goal to give them all a show to remember.
They danced like there was no tomorrow, some on the dancefloor, some at their tables – and we watched them sing along to their favorite songs and groove to new ones.  Several band members moved amongst the crowd while playing to bring them all into the experience. Many put up their "lighters" (flashlights on phones) to our rendition of Steelheart's "I'll never let you go", and even more chanted along to Def Leppard's Photograph while our leader singer Beth made use of the giant sub-woofer as an additional stage.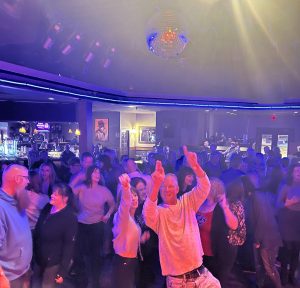 The best part – walking around after the show (after the chants of ONE MORE SONG) have subsided, is talking to each of them to hear about how fun we are, how professional we are, how much they love the songs and how we play them and make each one of them feel like part of the experience.
After the show, we spoke to the club event manager, who said he really appreciated the great turnout, and said attendance at the venue was returning to pre-pandemic levels. They have added new sound equipment, and will be installing an all new lighting system in March, anticipating continued growth in 2023 in an effort to stay competitive with the many options people have for live entertainment here in the Twin Cities.
We think this show was a huge success, with fans and the venue alike expressing their excitement for future performances. Stay tuned for more rockin' shows from Sugar Buzz, your Minnesota cover band!